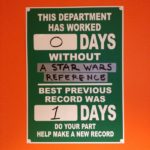 A podcast about storytelling, pop culture, and how they influence each other.
While Star Wars is a jumping off point for discussion, we delve into many various examples in everything from movies and television to books and video games. There is serious film analysis, long ranting tangents, and occasional comedy as we go off topic.
Archive Episodes
Episode 4: From a Certain Point of View
Episode 3: Revenge of the Writer
Legends #1
Episode 2: Attack of the Canon
Episode 1: The Hidden Fortress
Introductory Episode
Please subscribe and leave a review on iTunes.
Tweet